Municipal Garbage Collection
Waste collection and disposal is one of the critical factors that contributes to the livability and sustainability of a locality. For years, municipalities have chosen to hire collection and disposal vehicles against having their own fleet to economize operations. However, the problem they face is that in these hired vehicles, they find it hard to track if the waste collection and disposal is being carried out as per the plan.
To help overcome this problem, MapmyIndia's innovation solution includes cutting­edge technologies such as wireless networks, highly sophisticated devices and feature­rich application software.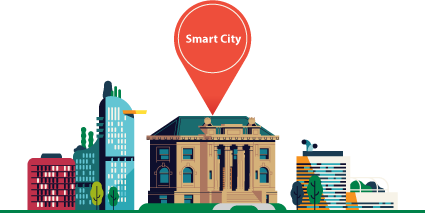 >
Biometric Attendance

Biometric attendance is in place for non-vehicle employees, assigned to do the cleaning and collection work. This help check the progress of collections in the area, on a real-time WebGIS dashboard. With this attendance system, municipal corporations can plan & monitor employee's visits and activities.

Advanced webGIS dashboard
Track time worked against job codes
Leaves monitoring
Employee & agency details
Track location of the attendance
Visualize data, plan & monitor employee visits and activities

Fleet Monitoring of Garbage Trucks

Fleet Monitoring of Garbage Trucks

With the help of MapmyIndia's powerful Telematics technology, Municipal corporations can now monitor and optimize the waste collection process. Included RFID tools enable municipalities to track which bins have been collected and which have not. Monitor all activities on a WebGIS dashboard which provides an advanced framework for data visualization, planning & monitoring.

Live tracking of garbage trucks
Vehicle & agency details
Geo­fence creation & clustering of garbage bins
Entry & exit notifications of each geo­fenced area/cluster
Multiple route creation
Route optimization based on number and location of collection areas
Route replay
Route deviation alerts
Multiple alert creation facility
Reports & MIS
Track garbage collection with the help of RFID trackers
See activity & movement of each garbage truck
Visualize data, plan & monitor activities using an Advanced WebGIS Dashboard
Benefits
Increase operational efficiency of solid waste management
Tracking & Monitoring employee visits to collection areas
Tracking & Monitoring garbage trucks to collection areas
Interactive map visualization showing waste collection
Real-time dashboard for quick planning & management
Contribute to smart cities with clean and hygienic environment
Industry verticals
Municipal Authorities
Agencies executing municipal solid waste management