Urban penetration
Today, organizations are constantly looking for a deeper reach of their brand. But conventional market research data does not provide the unique layer of spatial intelligence that a business needs to truly understand and visualize marketing insights.
MapmyIndia not only provides unique location data but also helps support data with visualize on a digital map. Now get better answers to: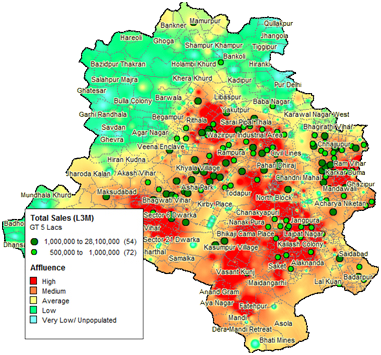 Which markets are saturated?
Are any untapped markets still there?
What is the potential within a catchment area of X kms around a selected location?
How to organize or redefine territories for optimum distribution and sales?
Should the business open a new distribution center? Where?
Should the business cannibalize an existing non­performing distribution center?
How to reach a potential market? What is the accessibility?
How does a particular outlet or distributor perform with respect to the competition?
Visualize business data on an interactive map
Integrate with enterprise business intelligence
Access several demographic and socio­economic datasets
MIS for key stakeholders
Visualize data with themes, heat maps, graphs, charts, and more!
Perform various analyses to power your marketing efforts:

Coverage & gap analysis
Sales performance analysis
Competition analysis
Potential analysis basis key performance indicators (KPI) of a business
Benefits
Identify untapped markets
Plan & improve distribution strategies
Plan & improve cohesive sales
Manage sales, distribution & marketing operations
Get insights into the coverage of the competition
Integrate sales, marketing & distribution data at various levels for deeper analysis
Identify the required business potential around a selected location
Target group localization
Compare the market potential between different locations
MAP APIs
Application development
GIS Professional Services
GIS Datasets
Hosting and Maintenance
Deployment
Industry Vertical
Organizations today are using Geo-analytics solutions to solve business problems related to segmentation of customer databases, implementation of effective sales & marketing, optimization of distribution, and more.
FMCG
Retail & Consumer Durables
Banking, Financial Services & Insurance
Automotive
Telecommunications
Market Consultants
Pharmaceuticals